The average person can walk over 200,000,000 steps in their lifetime.
At Stepping Stones Home Child Care we believe children need to take their own steps and follow their own path. SSHCC is a place where children enjoy the excitement of learning and growing in a home setting. We encourage independence through love and confidence. We believe children learn through their social-emotional experiences and through their visual, auditory, and kinesthetic senses. Children watch what we do, hear what we say, try new things, and feed off our emotions. Here we believe it is alright to take risks, make mistakes, and express how we feel. We try to teach children how to express emotions properly, give them the confidence to explore new horizons, and provide a safe environment where risk taking can be done at will.

We believe a cooperative relationship between families and providers is the foundation for a solid relationship between the children and their caregivers. We encourage open communication, constructive criticism, and most important-honesty. When there is a strong relationship between parents and providers, the relationship among children and caregivers is stronger and more productive. Is your child ready to walk on stepping stones?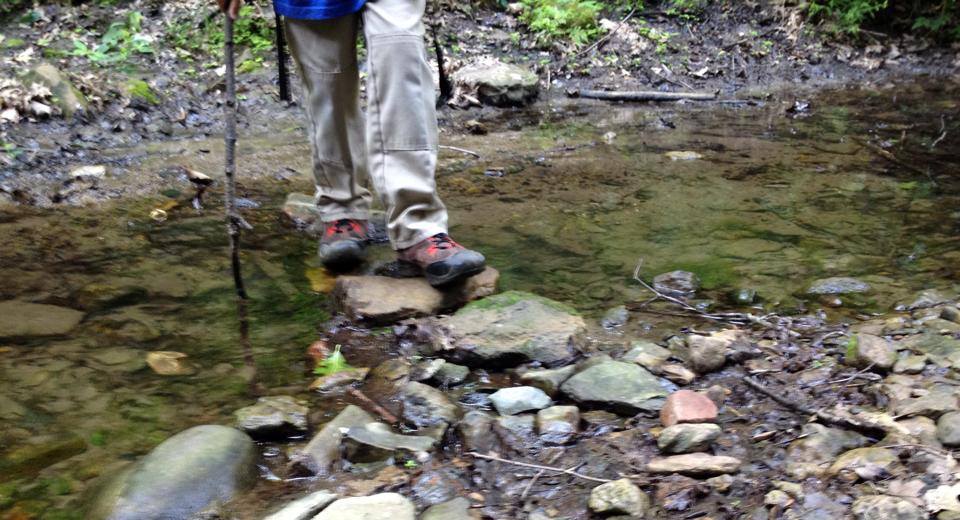 One of our school-agers taking a path of stepping stones over a creek at Starved Rock.

The Stepping Stones HCC before & after school program currently only serves children within the Troy Heritage Trail Elementary School boundaries. Children from other schools and districts are welcome to enroll for our summer camp and/or days off school. Summer camp fills up fast! Contact us for availability.